While Armenian Deputy Minister of Agriculture Ashot Harutyunyan has told Hetq that this year's mild winter climate hasn't affected the country's agriculture in terms of irrigation, farmers, especially villagers in the Ararat Valley are concerned about the lack of recent precipitation.
Harutyunyan says there is snow in the highlands of Aragatsotn, Gegharkunik, Kotayk, Shirak and Syunik Provinces, which will have a positive impact on vegetation.
Ararat Valley residents argue that local reservoirs won't have sufficient water for irrigation during the summer.
Deputy Chairman of the State Water Management Committee Volodya Narimanyan says that there are some 80 reservoirs in Armenia, with a total volume of 1.2 billion cubic meters. Eleven of them are relatively larger. As of February 13, eleven reservoirs are filled only with 229.97 million cubic meters of water –  30% of their total capacity.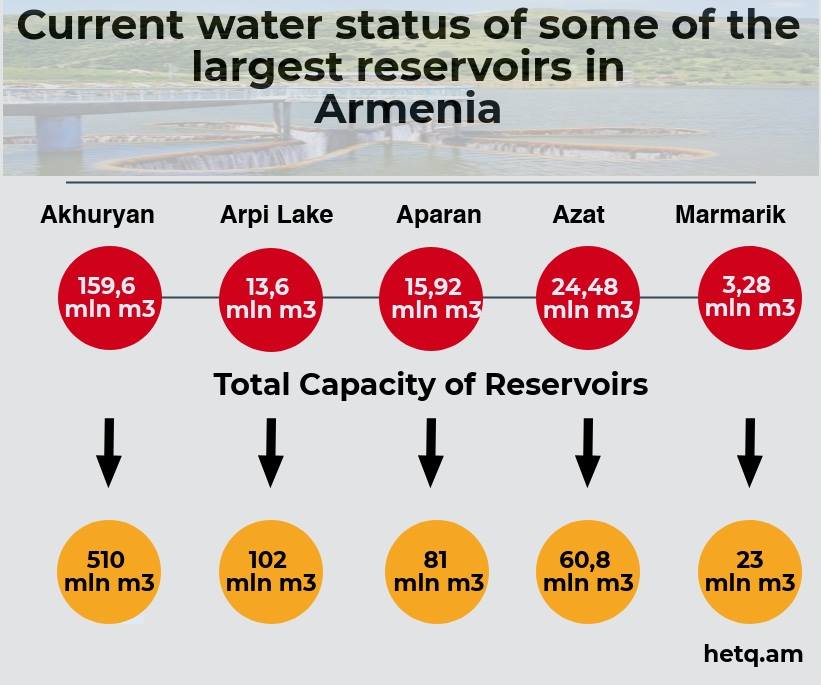 Narimanyan says if the above-mentioned reservoirs are fullof water, and weather conditions are favorable in the irrigation season, the areas serviced by those reservoirs won't lack irrigation water. In case of unfavorable, dry weather conditions, water scarcity risks can be mitigated by exploitation or re-use of deep wells,even by drilling new ones.
Deputy Minister of Agriculture says that if 446,000 hectares of arable lands in the country are fully engaged in agriculture, even full reservoirs won't solve the water deficit problem.
Several new reservoirs are under construction or planned to be built to store the water flows in the territory of Armenia. For example, the French Development Agency finances the construction of the Vedi Reservoir (29 mln cubic meters), worth €90 million euros, of which €75 million is a loan.
Harutyunyan notes that effective use of water resources is also a priority for irrigation water regulation. At present, the poor condition of canals and networks, as well as surface irrigation result in at least 45% loss of irrigation water. Harutyunyan says they are trying to improve the situation by advertising and consulting on the advantages of drip irrigation, as well as the vital need for water conservation. Irrigation systems efficiency and modernization projects are implemented at the expense of available loan resources.
The Ministry of Agriculture developed a project, approved by the Armenian government in December 2017, subsidizing interest rate of loans for the introduction of drip irrigation systems and to make the interest rate of such loans less than 2%. The project envisages stimulating the introduction of effective irrigation methods in perennial plants -fruit and vineyards, high-value crops fields.
During 2018-2022, there are plans to install drip irrigation systems in 1,600-1,700 hectares of land annually, which requires around 2.0 billion drams per year to subsidize interest rates – 2.275 billion drams in total.
The Ministry of Agriculture anticipates both quantitative and qualitative results from the project – increased and improved crop yields, more efficient use of the country's water, energy and land resources, expanding cultivated lands, modernizing the irrigation system, improving efficiency of irrigation accounting and management, and so on.
Narimanyan says that to increase water supply and irrigate new lands, there's a loan project for modernizing irrigation systems, financed by the Eurasian Development Bank, the cost of which is around $50 million, of which $40 million is a loan.
Source – http://hetq.am